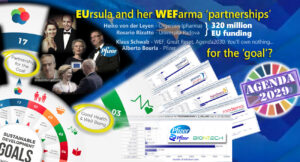 After the blacked-out contracts, the secret messages and the prosecution investigation… the great mystery behind Ursula von der Leyen is enriched with yet another episode.
(orginal source: Fuori dal Coro – 25oct22)
Related internal
Related external
European Parliament – Parliamentary question – E-003749/2022 (17 nov 2022)
COVID-19: does the position of Ursula von der Leyen's husband create a conflict of interest with some of the Commission's activities?
In April 2021, the New York Times first reported on text messages exchanged between von der Leyen and Pfizer CEO Albert Bourla in the run-up to the EU's biggest vaccine procurement contract — for up to 1.8 billion doses of BioNTech/Pfizer vaccine. The deal would be worth up to €35 billion if fully exercised, according to leaked vaccine prices.
The saga, known to critics as Deletegate, arose after the New York Times reported in April 2021 that Von der Leyen had exchanged text messages with the Pfizer chief executive, Albert Bourla, forging a relationship that unlocked lucrative deals for the untested, experimental coronavirus injections.
---