About the Global Powergrab of the World Health Organisation (WHO)
#StopTheTreaty  #ExitTheWHO
Stop the WHO & UN's aggressive pandemic treaty push
Please sign the petition: https://citizengo.org/en-us/node/211837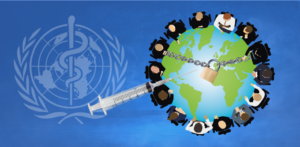 Philipp Kruse's speech at the Health and Democracy Conference
13 september, 2023 – EU Parlement, Strasbourg
Philipp is Kruse one of the lawyers involved in citizens initiative gives a speech at the European Parliament for the ECI citizens initiative to challenge the WHO on their pandemic treaty.
Supported and shortly commented by Dr. John Campbell.
More Global Powergrab of the World Health Organisation (WHO)
or the Global WHO pandemic treaty danger.
https://apps.who.int/gb/wgihr/pdf_files/wgihr1/WGIHR_Compilation-en.pdf
https://www.consilium.europa.eu/en/po… https://apps.who.int/gb/wgpr/pdf_file…
Philipp Kruse
---
Other references
WHO, Sinister developments
Dr. John Campbell talks with James Roguski


More useful

links

from James;

New WHO International Health Regulations concerns
Dr. John Campbell introduces Andrew Bridgen
"The very concept of Democracy that we've taken for granted all of our lives
is under threat as it has never been before.
And it's not just in my country, it's not across Europa,
it's across the whole of the world.
And it's not from external armies mounting up on our borders this time.
It's from the corruption and the decay of our own institutions
that are allowing this to happen."
Stuff to dive into:
Meeting reports