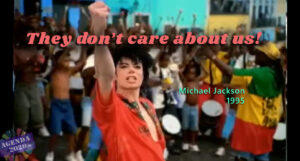 All I want to say is that they don't really care about us…
How do you rate this video?
Easy to understand?

0

Credible / Trustworthy?

0

Important?

0

Urgent?

0

Inspiring or feasabile?

0

Like / Agree?

0
April 16, 1996, as the fifth single from his ninth album, HIStory: Past, Present and Future, Book I (1995). It is a protest song and remains one of the most controversial pieces Jackson ever composed. In the US, media scrutiny surrounding allegations of antisemitic…
The singer countered allegations of antisemitism, arguing that reviews had misinterpreted the context of the song, either unintentionally or deliberately.
"It is about the injustices to young people and how the system can wrongfully accuse them."
[or any of us for that matter]
Producing the first music video for "They Don't Care About Us" proved to be a difficult task for Jackson. State authorities unsuccessfully tried to ban the singer filming in Salvador (Pelourinho) and in Rio de Janeiro. Officials in the state of Rio feared images of poverty might affect tourism and accused Jackson of exploiting the poor. Ronaldo Cezar Coelho, the state secretary for Industry, Commerce and Tourism, demanded editing rights over the finished product, stating, "I don't see why we should have to facilitate films that will contribute nothing to all our efforts to rehabilitate Rio's image". Some were concerned that scenes of poverty and human rights abuses would affect their chances of hosting the Olympics in 2004. Others supported Jackson's wish to highlight the problems of the region, arguing that the government were embarrassed by their own failings.
A judge banned all filming but this ruling was overturned by an injunction. Although officials were angry, the residents were not and Jackson was surrounded by crowds of enthusiastic onlookers during filming. One woman managed to push through security to hug Jackson who continued dancing while hugging her. Another woman appeared and hugged him from behind. He then fell to the ground as police pulled the two women off him and escorted them away. After the director helped Jackson get up off the street, he continued to sing and dance. This incident made it into the music video. 1,500 policemen and 50 residents acting as security guards effectively sealed off the Santa Marta favela.
(wikipedia EN)