Italian Premiêre of Ithaka in Montano Lucino (Como)
With with live intervention of John Shipton himself and interview by Lorena Corrias of Como_for_Assange.
These kind documentaries are yet another beautiful way to protest/demonstrate against government or other 'authority's' untruth, injustice and despotism.
---
The invitation by Como_for_Assange
Hi guys,
everyone here knows that *true* information is POWER! ?
And over the years we have been fighting for the truth to come out.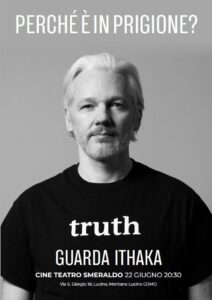 We know well that if Julian Assange had not been locked up, the narrative of this period would have been quite different…
Julian Assange's case and event are totally related to the purpose of this fine group.
Julian Assange is a journalist, programmer, and founder of Wikileaks who has put his life on the line to bring us the real news about wars, environmental devastation caused by big corporations that only do their own bidding, brought to light the Guantamo scandals and torture, and a thousand other news stories that affect us all.
He has been in solitary confinement for four years in a 2m x 3m cell and faces a sentence of up to 175 years in prison for revealing this information to the world.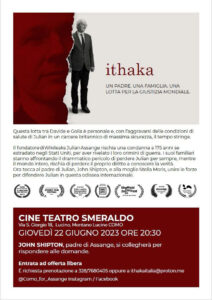 We have been working hard to bring Ithaka to Como and it will be the first independent screening in Italy.
Who will join my struggle, which I know so many of you share, and join us during the screening of *Ithaka*? Ithaka is a docufilm made by Gabriel Shipton, brother of *Julian Assange*?
Thursday, June 22 at 8:30 pm in Montano (further details on the poster).
At the end of the docufilm we will be able to ask questions to *Julian's dad John Shipton* who will connect with us.
I look forward to your reservations and thank you very much for your support!
See you soon,
Lorena from Como_for_Assange – facebook, instagram, linktree

More at Ithaka, the movie